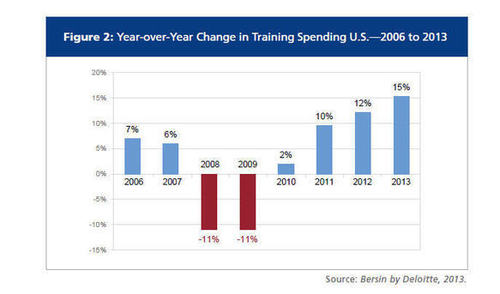 The economic recovery is clearly here: spending on corporate training is soaring.
Bersin by Deloitte just completed their 2014 Corporate Learning Factbook and the research is striking: US spending on corporate training grew by 15% last year (the highest growth rate in seven years) to over $70 Billion in the US and over $130 Billion worldwide.
This tremendous increase follows two years of accelerated spending in this area (10% in 2011 and 12% in 2012), illustrating how companies see tremendous skills gaps as we recover from the recession.
Corporate training is always a very good indicator of economic activity: when companies slow down they often cut training spending, and then as business grows they ramp back up to train new hires, sales people, and leaders. This is among the most discretionary of all corporate spending areas, so it is an excellent bellweather for business confidence.
Vicki Kossoff @ The Learning Factor's insight:
You can also download the Executive Summary of this report.
See on www.forbes.com